7 Reasons to Take the Train to Sicily
By Railbookers
Friday, May 19, 2023
Read time: 2 minutes
Explore the beauty of Sicily by train with Railbookers: stunning scenery, comfort, budget-friendly, sustainability, cultural immersion, easy connections, and avoiding traffic.
Sicily is a beautiful and fascinating destination that is rich in history, culture, and natural beauty. There are many ways to get to this stunning island, but taking the train is one of the best options. Here are seven reasons why you should consider taking a train vacation with Railbookers to Sicily.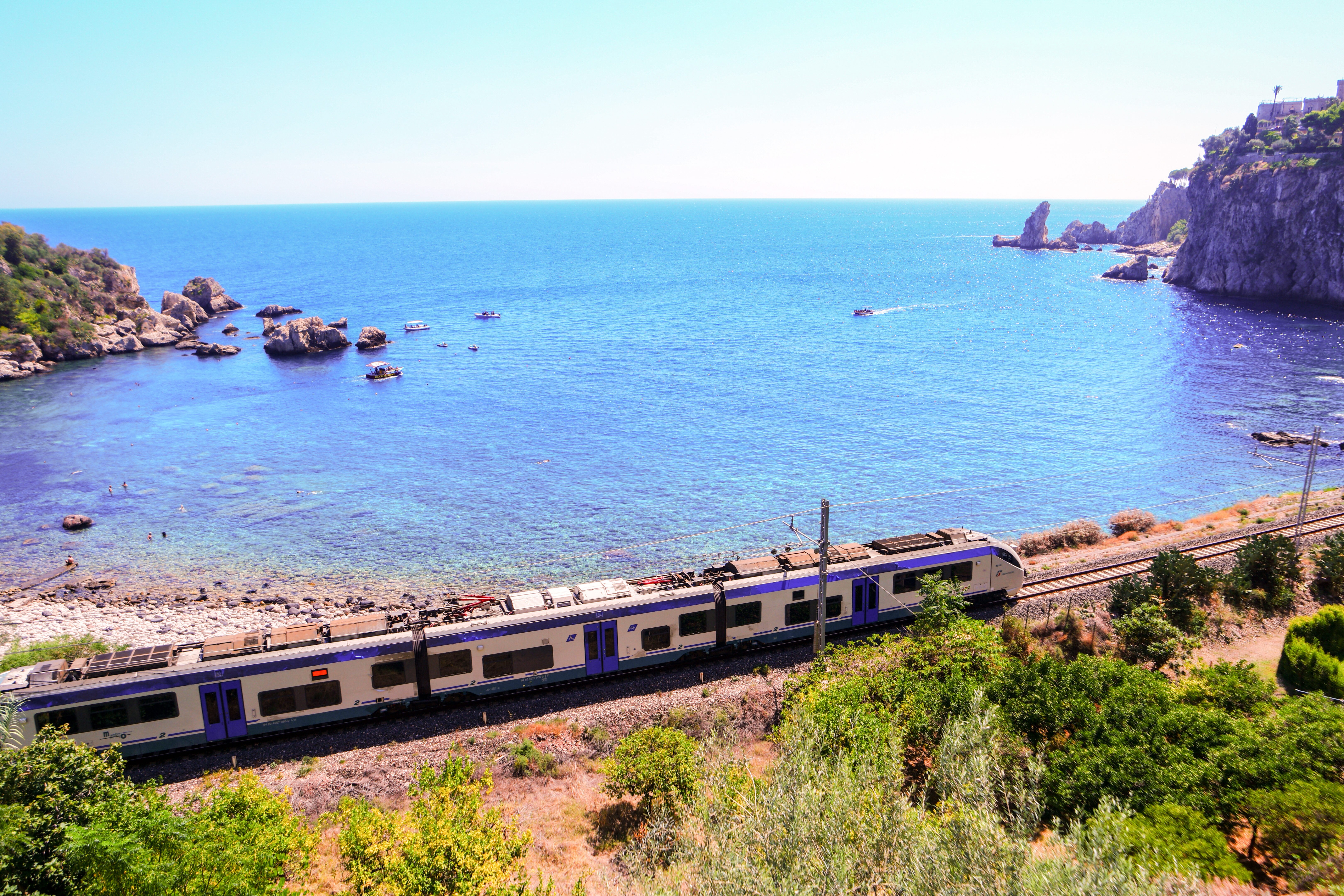 1. Beautiful Scenery
The route from the mainland to Sicily takes you through some of the most beautiful landscapes in Italy, including the rolling hills of Tuscany, the rugged coastline of Calabria, and the sparkling waters of the Tyrrhenian Sea.
2. Comfort and Convenience
Trains in Italy are generally clean, modern, and well-maintained, and they offer amenities like air conditioning, Wi-Fi, and food and drink service. Plus, you don't have to worry about navigating unfamiliar roads or dealing with traffic.
3. Maximize Your Budget
When you travel by train to Italy, you can eliminate the need for expensive car rentals or parking fees and save a lot of money in the long run, especially if you're planning to explore multiple destinations in Sicily. Booking your trip with Railbookers gives you access to the widest variety of train tickets available, with options for every budget as well as booking up to 24 months in advance.
4. Sustainable
Trains emit far fewer greenhouse gases than cars or planes, making them a much more sustainable option for travel. By choosing the train over a car or plane, you can significantly reduce your carbon footprint and help protect the environment.
5. Cultural Experience
Taking the train to Sicily is not just about getting from point A to point B – it's also a cultural experience. You'll have the opportunity to meet locals, see historic landmarks, and learn about the region's rich history and traditions.
6. Easy Connections
There are multiple train connections from major cities in Italy to Sicily, including Rome, Naples, and Palermo. This makes it easy to plan your trip and connect to other destinations in Italy.
7. Avoid Traffic
Sicily can be a crowded and busy destination, especially during peak travel season. By taking the train, you can avoid the stress and hassle of navigating congested roads and parking in busy cities.
Overall, taking the train to Sicily is an excellent option for those looking for a comfortable, affordable, and sustainable way to explore this beautiful island. Book your trip today by contacting our Rail Experts or your local travel advisor!