Train Travel Across Canada - Quick Tips for the First-Timer
By Railbookers
Sunday, March 12, 2023
Read time: 5 minutes
From the relaxed, friendly pace onboard to the pristine wilderness outside your window, traversing Canada along the tracks is truly a unique, once-in-a-lifetime experience.
There's nothing quite like taking the train across the vast, wild expanse that is Canada. From the relaxed, friendly pace onboard to the pristine wilderness outside your window, traversing Canada along the tracks is truly a unique, once-in-a-lifetime experience. And whether it's your first time taking an overnight train across Canada or you're a seasoned pro, these tips will help make the experience even better! 
Get a Room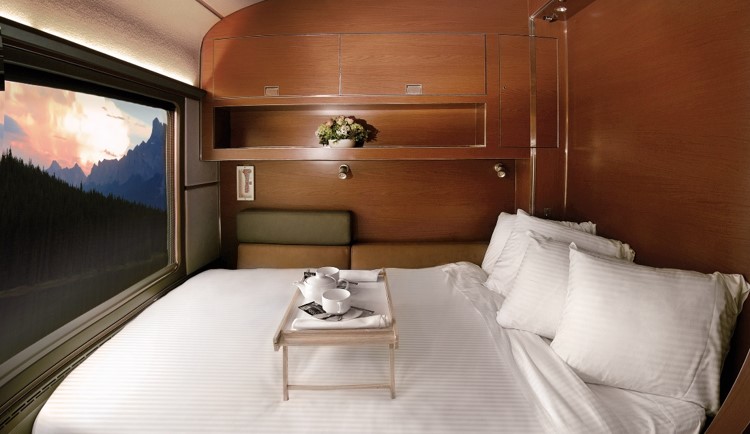 VIA Rail, Canada's national train network, operates 494 trains per week in eight Canadian provinces over a network of 7,800 miles of track. So whether you travel on VIA Rail's classic trans-continental train, the Canadian, from Toronto to Winnipeg, Edmonton, Jasper and Vancouver; the inter-city trains between Toronto, Montréal and Québec; or the Ocean from Montréal to Halifax, you'll experience fresh, chef-prepared meals and comfortable, relaxing amenities with spectacular views throughout! From Toronto, VIA Rail's iconic train, the Canadian, takes riders on a magical, five-day, four-night, 2,775-mile journey across four time zones and five provinces.
Glide through the boreal forests of Northern Ontario, experience the vast expanse of the prairie grasslands, and climb the majestic, snow-capped Canadian Rockies before the train comes to its final stop in vibrant, coastal Vancouver. The journey has been hailed as the most comprehensive portrait of the country's fascinating geographic diversity, and as such, is beloved by both first-timers and train aficionados alike.
Travelers have the option of upgrading to Prestige class, Sleeper Plus class, or Economy class for overnight accommodations onboard the Canadian, with all classes featuring the impeccable service that VIA Rail is known for. The most luxurious accommodation onboard the Canadian is found in the Prestige class sleeper car, where private, radiant-heated rooms feature a comfortable double bed, en-suite bathroom and shower, large picture window, flat-screen TV, and all-inclusive meal and bar service. Perhaps the best part of Prestige class is that these amenities also come with a dedicated, attentive concierge, able to assist you with your every need.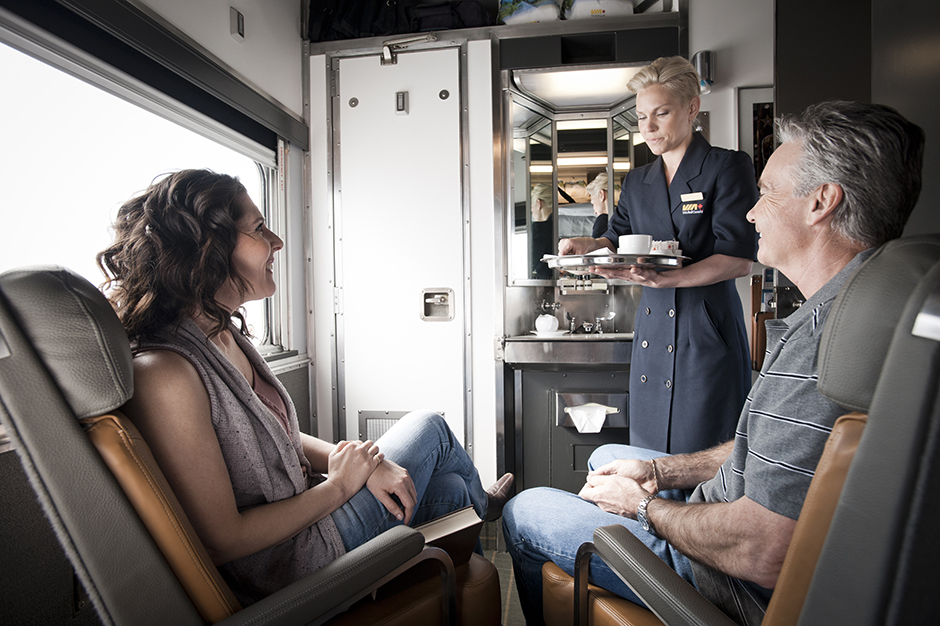 In addition to the dining car and the various sleeping cars, the train includes a Skyline car (or Dome car) with a glass-ceilinged observation dome, and an elegant Park car for Prestige customers, with a vista dome and observation lounge at the rear of the train. The Dining Car onboard the Canadian features the fresh, chef-prepared meals that VIA Rail is known for - delicious regionally-inspired food and wine pairings to suit just about any palate.
Pack Smart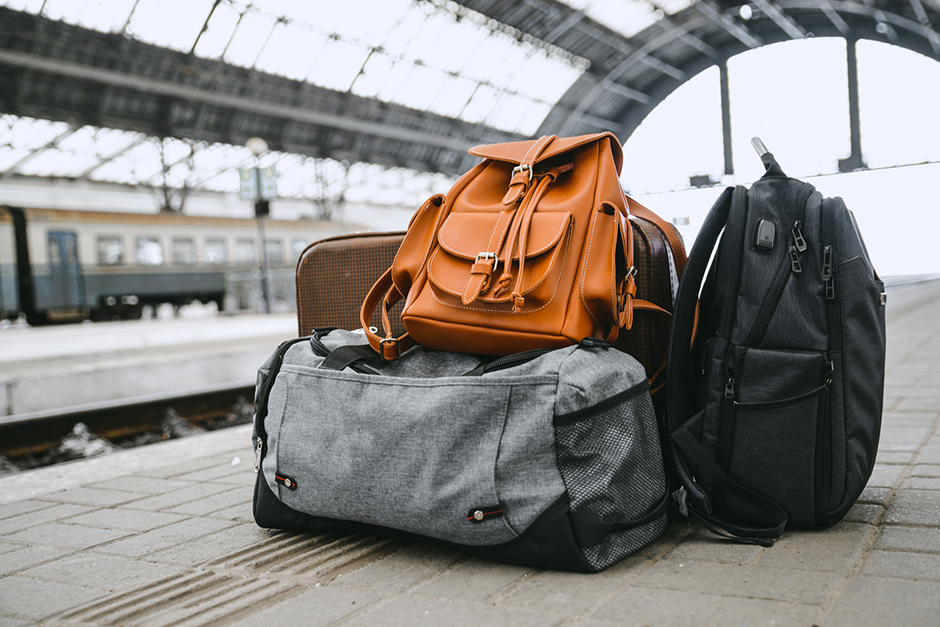 It's always recommended to pack light for long-distance train travel, as you don't want your luggage to take up most of your precious space in your room. And maneuvering multiple heavy bags on and off the train is no fun. Many multi-day train travelers make do with one carry-on and one personal item, like a backpack or a tote bag, And for those spending more than 24 hours on the train, there are certain essentials you don't want to be without. Since WiFi is only available on VIA Rail's Ocean (between Halifax and Montreal), make sure to pack some non-electronic reading materials or games when traveling across Canada on the Canadian.
There will be power outlets available onboard to charge eReaders or tablets. Of course, packing your camera to capture breathtaking views is highly recommended, as well as a spare battery or charger so you never miss the perfect shot. In addition to your regular footwear, it's a good idea to pack slippers for moving around at night and flip-flops for the shower onboard. Earplugs are also recommended for lighter sleepers or those just wanting to block out any unwanted noise.
Get the Full Experience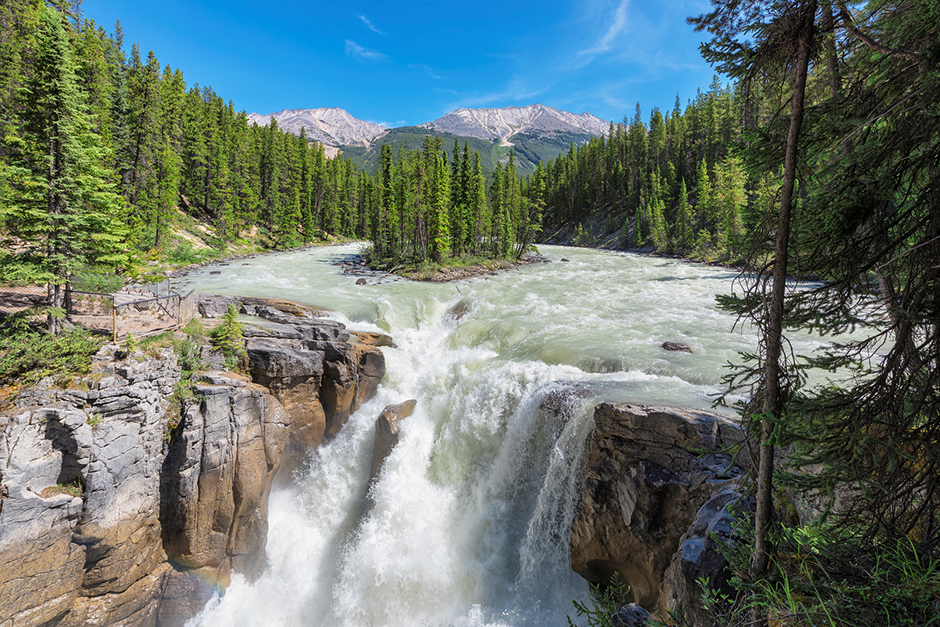 Why not make your train travel across Canada into a complete bucket-list experience, complete with included hotel accommodations in city stops, special activities, tours, and even included meals? Railbookers makes it easy with dozens of all-inclusive train vacations featuring VIA Rail. 
Consider the following vacations for the experience of a lifetime, or let us help you create your own:
Grand Canada Coast to Coast Eastbound Experience an epic rail journey traveling east across picturesque Canada! Your vacation begins in the vibrant, diverse city of Vancouver, also known as the "Hollywood of the North." Spend two days discovering the city before journeying east on a scenic overnight train ride to the Canadian Rockies and the incredible mountain towns of Jasper and Banff for a true Canadian alpine experience! Next, continue east on the train on an unforgettable journey through the Canadian Rockies and the beautiful plains to Canada's largest city, Toronto. While there, enjoy a full-day tour to magnificent Niagara Falls. Three more classic eastern Canadian cities – European-influenced Montreal and Quebec City, and the quaint seaside community of Halifax – round out this coast-to-coast Canadian experience!  
Grand Circle of the Canadian Rockies Experience the splendor of the Canadian Rockies on this grand rail journey with Rocky Mountaineer and VIA Rail. Travel through the Canadian Rockies and along the Fraser River and Canyon to places no cars can go. Spend time exploring the iconic emerald lakes and beautiful waterfalls in the heart of the Canadian Rockies. Travel to the mountain-side town of Banff, picturesque Lake Louise, and along the Icefields Parkway to the charming town of Jasper.
Classic Canada and Rockies Westbound Experience the wonders of the Canadian Rockies on this cross-Canada journey! Your tour begins in Toronto where you will experience the city's rich and diverse culture. Next, you will journey over to see the natural beauty of Niagara Falls. Your full-day tour will get you up close and personal with the Falls when your tour travels out on a cruise. You will board the classic Canadian route on VIA Rail as you head west towards the Canadian Rockies. Upon arrival to the Rockies, you will be in awe of the scenic majesty as the train makes its way into Jasper National Park. Once in Jasper, you will enjoy a guided tour that will take you to the famous Icefields Parkway as well as a trip to the Glacier Skywalk and the Glacier Discovery Center. After Jasper, you will continue to Vancouver where you will experience the popular Capilano Suspension Bridge Park. You will also explore the city on a hop-on, hop-off tour, and a visit to the Vancouver Lookout. A wonderfully scenic journey awaits!
Be in Moment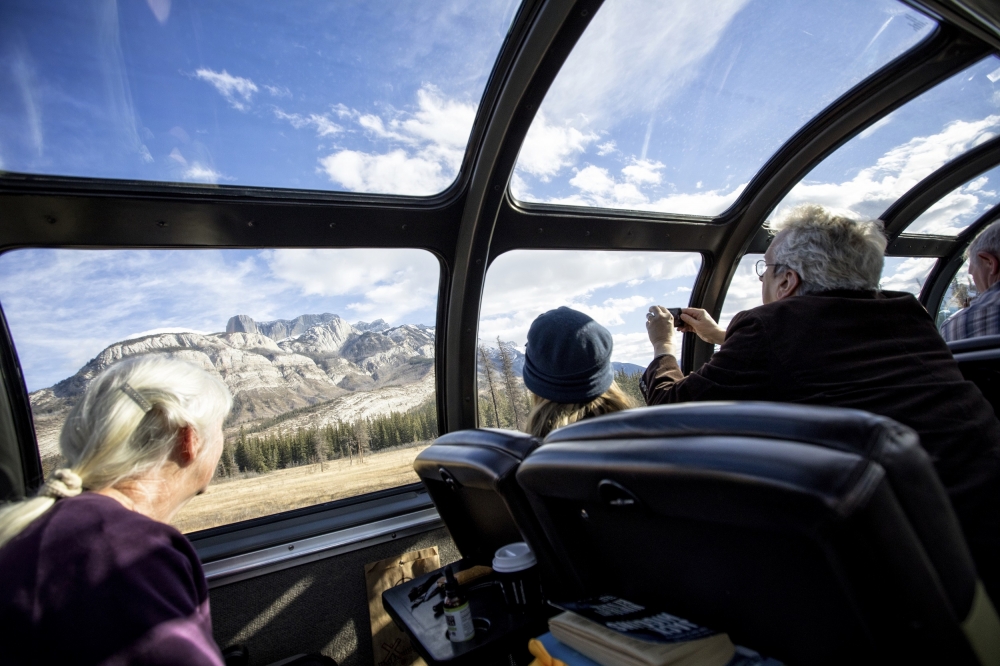 Unlike other modes of transport that attempt to get you from Point A to Point B as quickly as possible, with train travel the journey is just as much part of the travel experience as anything else. Time spent on the train forces you to slow down and appreciate your surroundings in the moment, which in today's fast-paced world, is increasingly hard to come by.